Atelier ECO STREET ART
April 30 @ 10h00

-

13h00

€10.00 – €15.00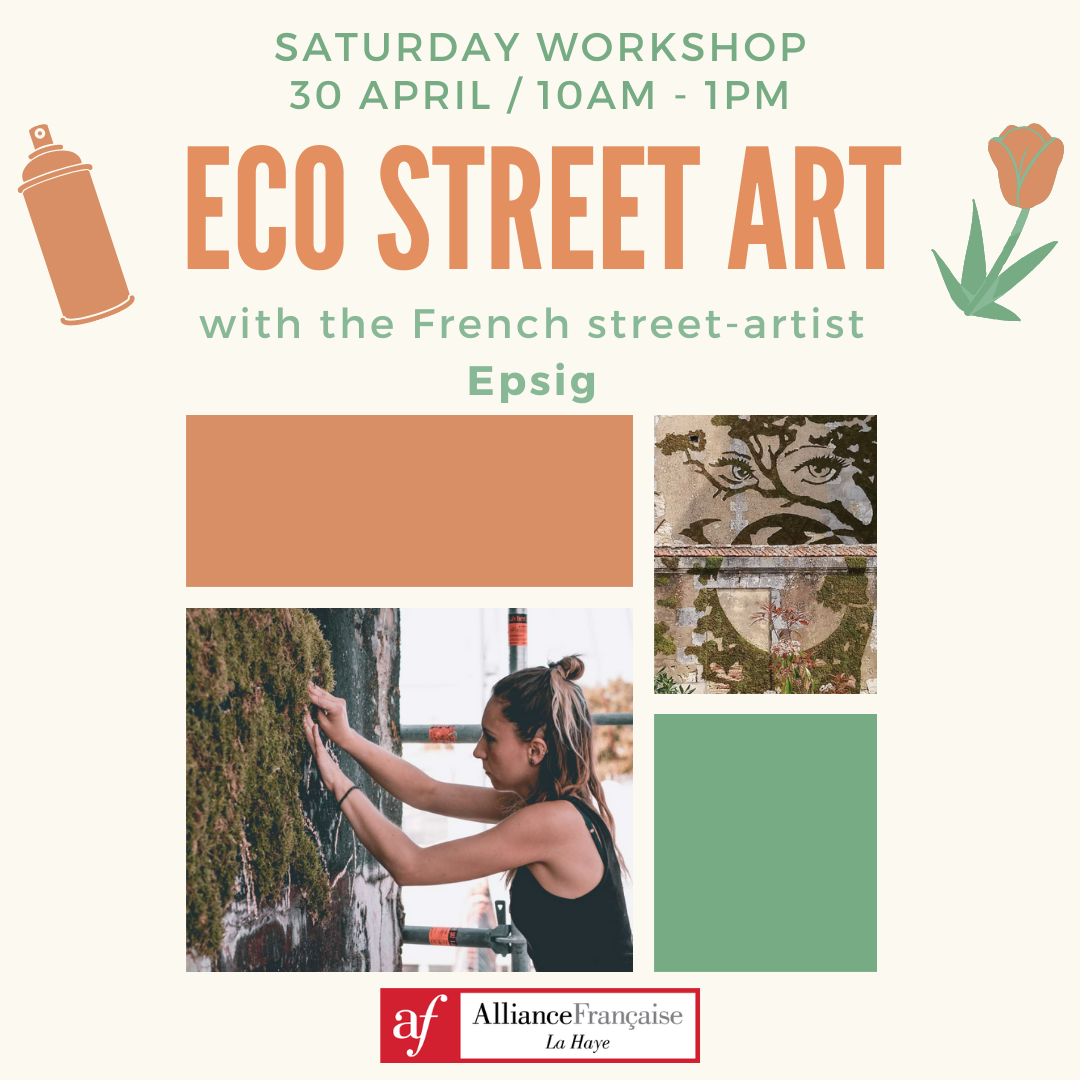 FR – C'est le retour des beaux jours, à cette occasion nous accueillons Epsig, street artiste et plasticienne originaire de La Rochelle (France), le samedi 30 avril pour réaliser une fresque végétale collaborative. L'univers artistique d'Epsig s'est construit et se développe autour du rapport entre l'homme et la nature, entre le végétal et l'urbain. C'est pour cela qu'elle aime partager, avec les petits et les grands, les techniques du graff végétal, art éphémère qui met la nature au cœur de nos espaces urbains. Pour réaliser ses fresques, Epsig utilise de la mousse fixée au mur grâce à une colle naturelle fabriquée à partir de produits alimentaires. Elle utilise également des bombes de craies et des pochoirs pour ajouter de la couleur à ses fresques.
Intéressés ? Essayez !
L'objectif est d'accueillir dans nos locaux les habitants curieux de découvrir cette pratique artistique et voulant mettre à la main à la pate (ou à la mousse). Rejoignez-nous dans ce beau projet participatif !
EN – The sunny days are back and in this occasion we are welcoming Epsig, painter and eco street artist from La Rochelle (France), on Saturday 30 April who is going to make a collaborative eco graffitti. With the idea of creating art pieces about the environment and the relationship between human and nature, Epsig soon specialised into eco street art and likes to share her technics with others, from children to adults. Green street art is an amazing way to create art in the urban space with natural materials. Indeed, murals are made with moss glued on the wall with a special paste made from flour, yogurt, old beer and sugar. This special paste allows to create an innovative piece without degrading the wall. Epsig also adds colors using chalk spray-paint, which is also ephemeral.
Sounds fun? Try it!
The goal is to welcome the inhabitants curious to discover this artistic practice and wanting to be a part of this project in our premises ! Join us in this beautiful project!
NE –
Het is weer mooi weer en om dat te vieren verwelkomen wij Epsig, een straatkunstenaar uit La Rochelle (Frankrijk), op zaterdag 30 april om samen een plantenfresco te creëren. Het artistieke universum van Epsig is opgebouwd en ontwikkeld rond de relatie tussen mens en natuur, tussen het plantaardige en het stedelijke. Daarom deelt zij graag met jong en oud de technieken van plantengraffiti, een efemere kunst die de natuur in het hart van onze stedelijke ruimten plaatst. Om haar fresco's te maken, gebruikt Epsig schuim dat op de muur wordt bevestigd met een natuurlijke lijm gemaakt van voedingsmiddelen. Ze gebruikt ook krijtbommen en stencils om kleur aan haar muurschilderingen toe te voegen.
Interesse? Probeer het eens!
Het doel is om in onze lokalen de inwoners te ontvangen die nieuwsgierig zijn naar deze artistieke praktijk en die hun handen vuil willen maken (of schuimen). Doe mee aan dit mooie participatieve project!