Concert Benjamin Piat
June 4 @ 18h30

-

19h30

€5.00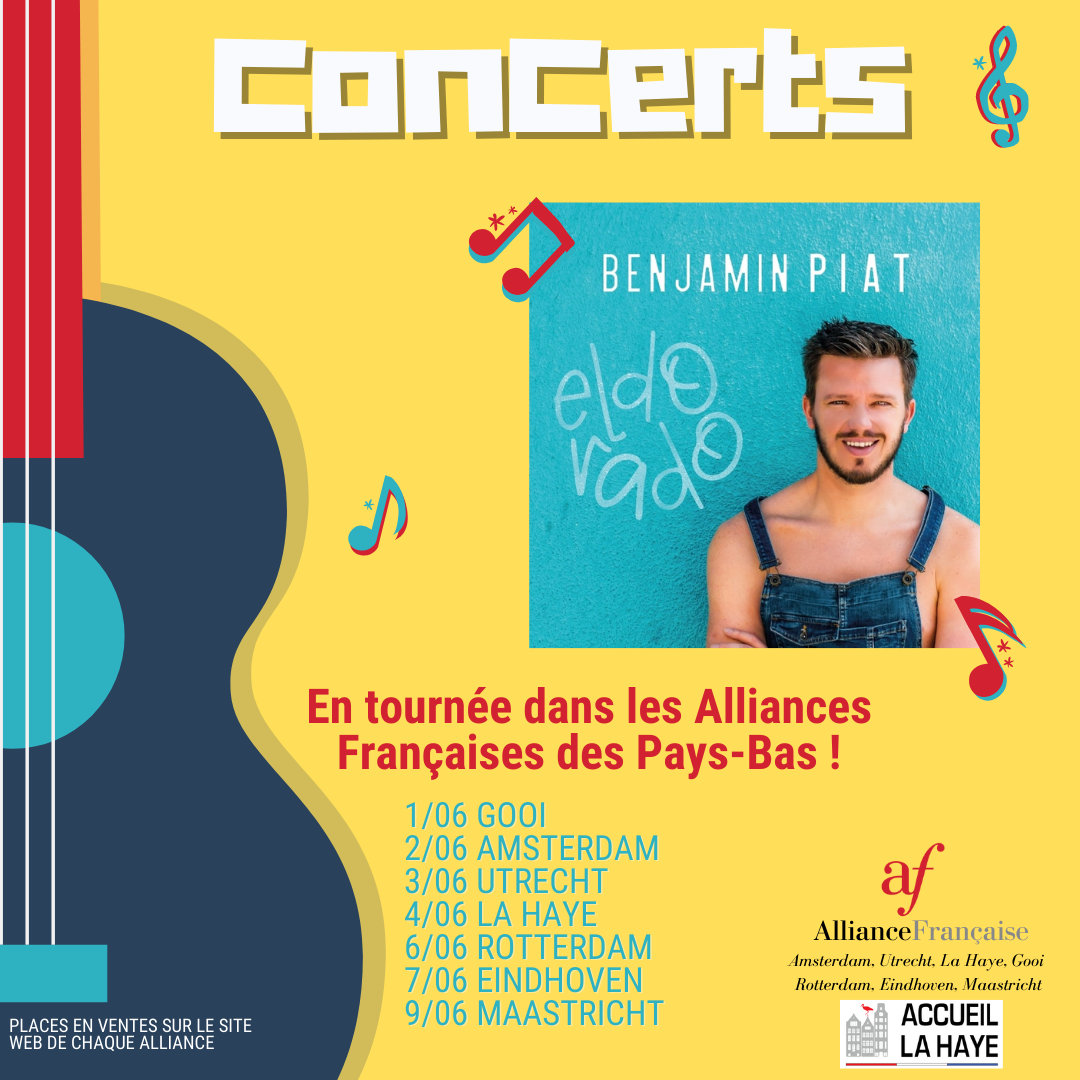 FR – Benjamin Piat est un auteur, compositeur et interprète traçant sa route entre pop et chanson française. A l'occasion de la sortie de son 4ème album, Eldorado, il vient se produire en juin dans 7 Alliances françaises des Pays-Bas. Écrites après sa tournée en Amérique Latine, ses dernières chansons vous donneront des envies de voyage ! De plus, nous sommes impatient de découvrir la collaboration entre le chanteur et nos jeunes choristes de l'atelier chant du vendredi soir, mené par Pauline Geoffroy ! En partenariat avec l'Accueil de La Haye et les Alliance Française de Gooi, Amsterdam, Utrecht, Rotterdam, Eindhoven, Maastricht.
EN – Benjamin Piat is an author, composer and performer who walks the line between pop and French chanson. For the release of his 4th album, Eldorado, he will be performing in June in 7 Alliances françaises in the Netherlands. Written after his tour in Latin America, his latest songs will make you want to travel! We are also looking forward to the collaboration between the singer and our young choristers from the Friday night singing workshop, led by Pauline Geoffroy! In partnership with the Accueil de La Haye and the Alliance Française of Gooi, Amsterdam, Utrecht, Rotterdam, Eindhoven, Maastricht.
NE – Benjamin Piat is een auteur, componist en performer die de grens tussen pop en Frans chanson bewandelt. Ter gelegenheid van de release van zijn 4e album, Eldorado, treedt hij in juni op in 7 Alliances françaises in Nederland. Geschreven na zijn tournee in Latijns-Amerika, zullen zijn laatste liedjes je zin geven om te reizen! We kijken ook uit naar de samenwerking tussen de zangeres en onze jonge koorleden van de zangworkshop op vrijdagavond, onder leiding van Pauline Geoffroy! In samenwerking met het Accueil de La Haye en de Alliance Française van Gooi, Amsterdam, Utrecht, Rotterdam, Eindhoven, Maastricht.