CONFÉRENCE OH! ART NOUVEAU
December 15, 2022 @ 20h30

-

21h30

Free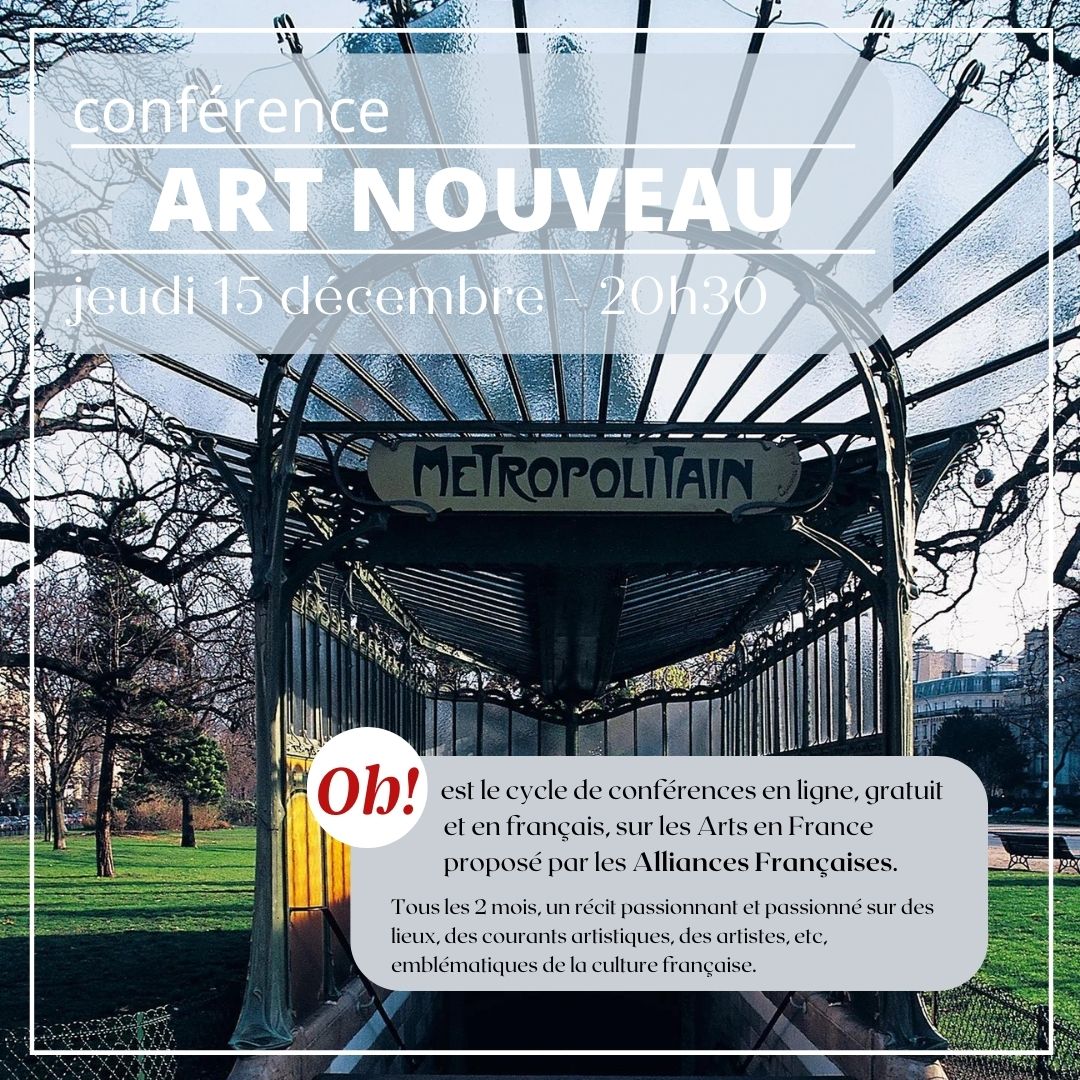 Les Alliances Françaises du Portugal, d'Espagne, de Pologne, de Belgique, des Pays-Bas ainsi que l'Accueil de la Haye sont heureux de s'unir de nouveau afin de vous présenter une nouvelle rencontre d'un cycle de conférences sur les incontournables de la culture française. Laissez-vous guider par notre conférencière Giulia Franceschini pour découvrir l'art nouveau : mouvement artistique de la fin du XIXe et du début du XXe siècle qui s'appuie sur l'esthétique des lignes courbes. Né en réaction contre les dérives de l'industrialisation à outrance et la reproduction sclérosante des anciens styles, c'est un mouvement soudain, rapide, qui connaît un développement international.
Cliquez ici pour vous inscrire.
De Alliances Françaises van Portugal, Spanje, Polen, België, Nederland en de Accueil de la Haye bundelen opnieuw hun krachten om u een nieuw evenement voor te stellen in een reeks lezingen over de essentie van de Franse cultuur. Laat u door onze docent Giulia Franceschini leiden door de art nouveau-beweging van eind 19e en begin 20e eeuw, die gebaseerd was op de esthetiek van gebogen lijnen. Geboren als reactie op de excessen van de industrialisatie en de sclerotische reproductie van oude stijlen, was het een plotselinge, snelle beweging die zich internationaal ontwikkelde.
The Alliances Françaises of Portugal, Spain, Poland, Belgium, the Netherlands and the Accueil de la Haye are pleased to join forces once again to present you with a new event in a series of lectures on the essentials of French culture. Let our lecturer Giulia Franceschini guide you through the art nouveau movement of the late 19th and early 20th centuries, which was based on the aesthetics of curved lines. Born as a reaction against the excesses of industrialisation and the sclerotic reproduction of old styles, it was a sudden, rapid movement that developed internationally.