CONFÉRENCE OH! Visite du musée Kröller-Müller
November 19, 2022 @ 9h30

-

17h30

€25.00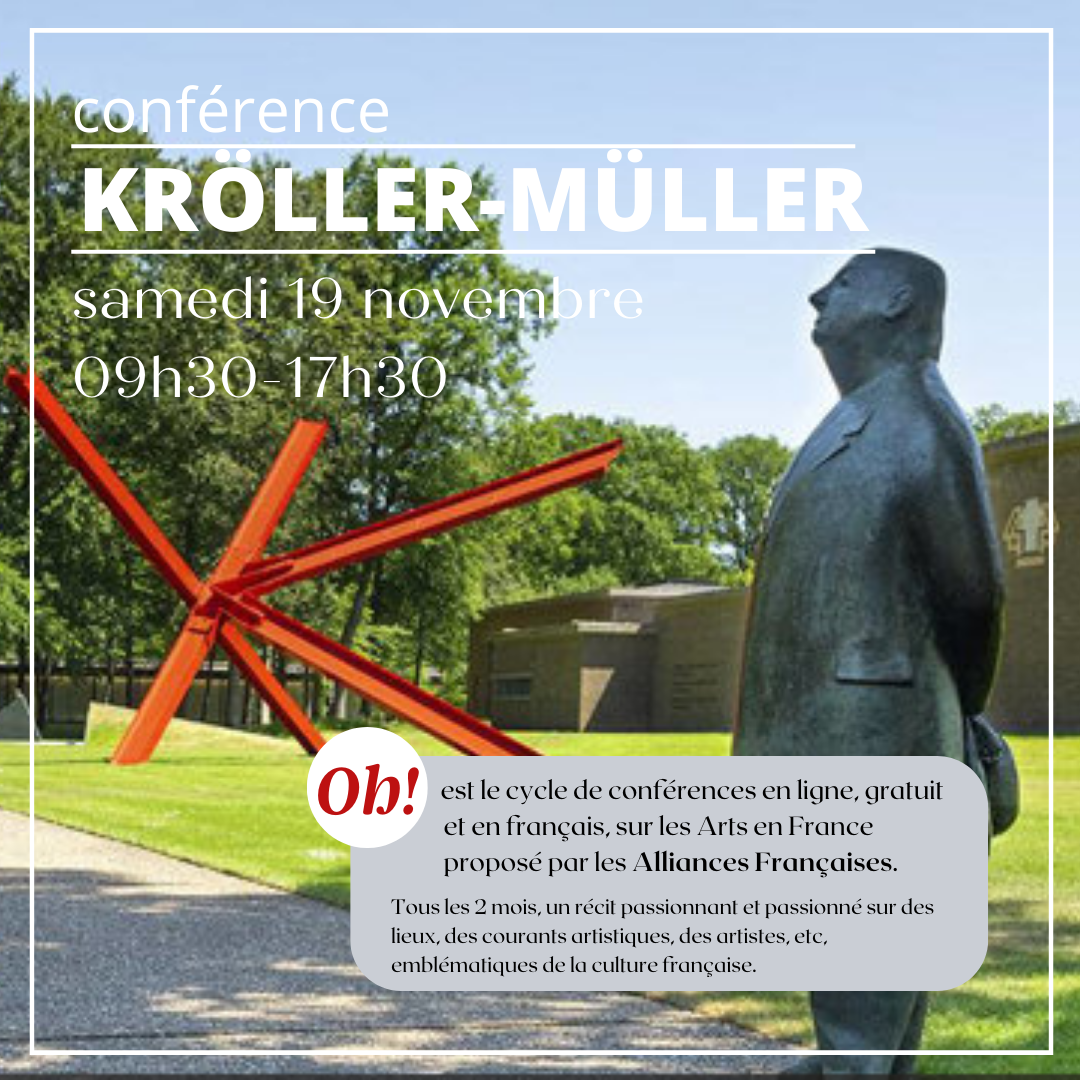 Un des plus beaux musées aux Pays-Bas qui porte le nom d'Helene Kröller-Müller (1869- 1939), qui a constitué la deuxième plus grande collection au monde d'œuvres de Vincent van Gogh ainsi qu'une imposante collection de peintures néerlandaises des 19e et 20e siècles.
Départ de l'Alliance française de La Haye à 9.30 en car incluant l'entrée au parc national. Chaque participant doit être muni de la carte des musées.
Een van de mooiste musea in Nederland vernoemd naar genoemd naar Helene Kröller-Müller (1869-1939), die de op één na grootste collectie ter wereld heeft opgebouwd. s werelds op één na grootste collectie werken van Vincent van Gogh en een indrukwekkende collectie van Nederlandse schilderijen uit de 19e en 20e eeuw.
Vertrek vanaf de Alliance Française in Den Haag om 9.30 uur per bus inclusief toegang tot het nationaal park. Elke deelnemer moet een geldige museumkaart hebben.
One of the most beautiful museums in the Netherlands that bears the named after Helene Kröller-Müller (1869-1939), who built up the second largest collection of the world's second largest collection of works by Vincent van Gogh as well as an impressive collection of Dutch paintings from the 19th and 20th centuries.
Departure from the Alliance Française in The Hague at 9.30 am by bus including entrance to the national park. Each participant must have a valid museum card.