November 19, 2022 @ 19h30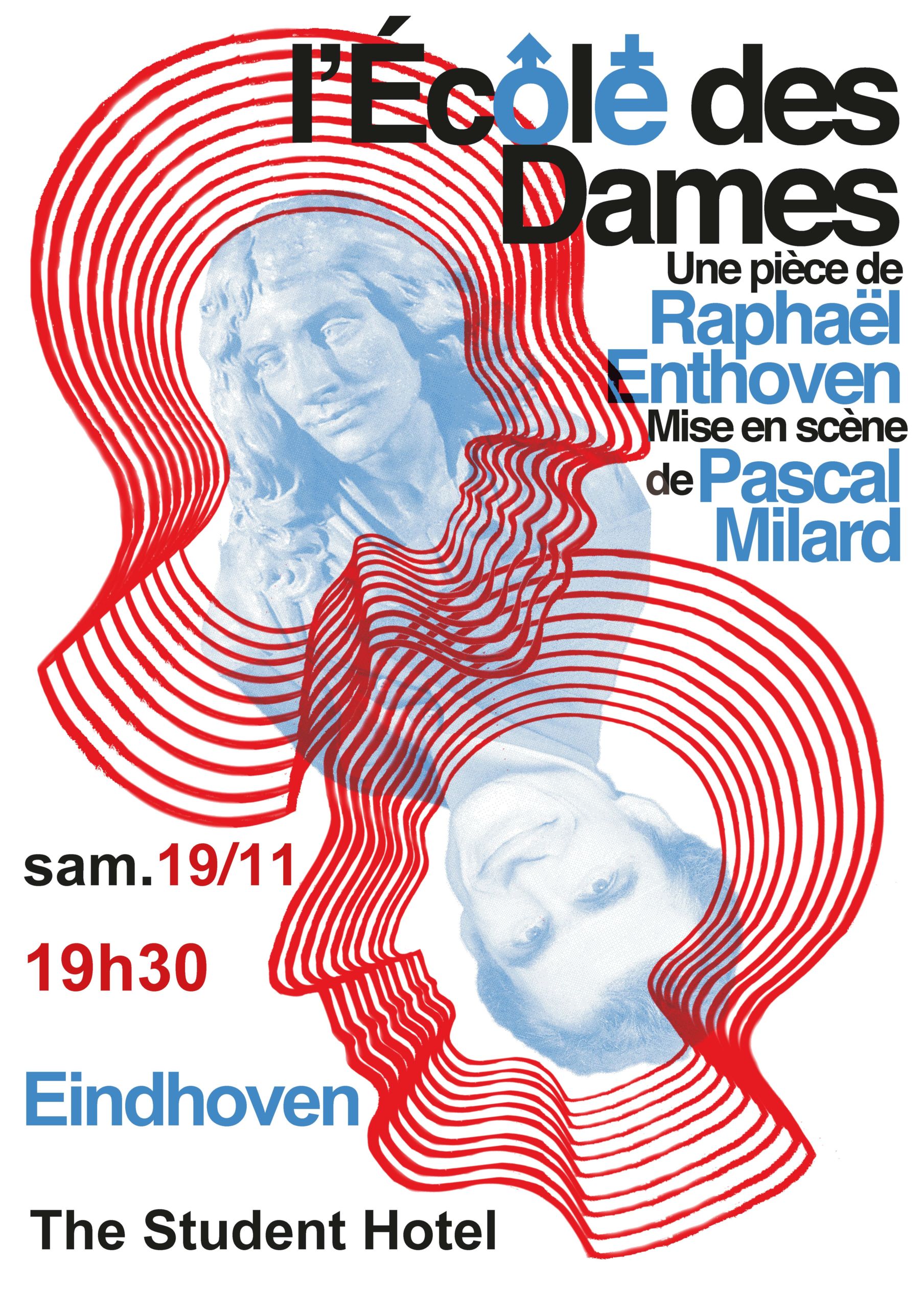 FR – Après plus de trois ans d'attente, l'Avalanche va pouvoir se déverser dans nos contrées pour mieux remonter sur les planches.
La troupe internationale de théâtre amateur francophone de L'Alliance française de La Haye, le Théâtre de l'Avalanche, c'est son nom est fière de vous présenter sa nouvelle production, le samedi 19 novembre, à 19h30 au Student Hotel d'Eindhoven. Dix actrices et acteurs français, néerlandais, allemand, argentin et espagnol joueront pour vous l'École des Dames une pièce du philosophe français Raphaël Enthoven. Il s'agit d'une réinterprétation moderne de l'École des Femmes de Molière avec une vision post MeToo qui pourrait bien vous surprendre. Sous les travers d'une large farce se dégage une vision puissante du rapport homme-femme, de la peur du vieillissement, du rôle de l'acteur et encore bien d'autres thèmes plus ou moins dissimulés dans le jeu et le texte.
Vous êtes les bienvenus à partager avec nous cette expérience théâtrale. Au plaisir de vous y retrouver.
A noter que cette pièce est conseillée aux plus de 12 ans.
EN – After more than three years of waiting, the Avalanche will be able to come back to our country to perform on stage.
The international French-speaking amateur theatre company of the Alliance française de La Haye, the Théâtre de l'Avalanche, as it is called, is proud to present its new annual production on Saturday 19 November at 7:30 pm at the Eindhoven Student Hotel. Ten actors from France, the Netherlands, Germany, Argentina and Spain will perform L'École des Dames, a play by French philosopher Raphaël Enthoven. It is a modern reinterpretation of Molière's École des Femmes with a post-MeToo vision that may well surprise you. Underneath the broad farce is a powerful vision of the relationship between men and women, the fear of ageing, the role of the actor and many other themes more or less hidden in the play and the text.
You are welcome to share this experience with us. We look forward to seeing you there.
Please note that this play is recommended for children over 12 years old.
NE – Na meer dan drie jaar wachten zal de Avalanche naar ons land kunnen terugkeren om op het podium op te treden.
Het internationale Franstalige amateurtheatergezelschap van de Alliance française de La Haye, het Théâtre de l'Avalanche, zoals het genoemd wordt, presenteert met trots zijn nieuwe productie op zaterdag 19 november om 7:30 uur in het Student Hotel van Eindhoven. Tien acteurs uit Frankrijk, Nederland, Duitsland, Argentinië en Spanje zullen L'École des Dames opvoeren, een toneelstuk van de Franse filosoof Raphaël Enthoven. Het is een moderne herinterpretatie van Molière's École des Femmes met een post-MeToo visie die u wel eens zou kunnen verrassen. Onder de brede klucht gaat een krachtige visie schuil op de verhouding tussen mannen en vrouwen, de angst voor het ouder worden, de rol van de acteur en vele andere thema's die min of meer verborgen blijven in het stuk en de tekst.
U bent van harte welkom om deze ervaring met ons te delen. We kijken ernaar uit u daar te zien.
Let op: dit toneelstuk wordt aanbevolen voor kinderen ouder dan 12 jaar.