Soirée Vins et Fromages Juin 2022
June 17 @ 18h30

-

20h30

€25.00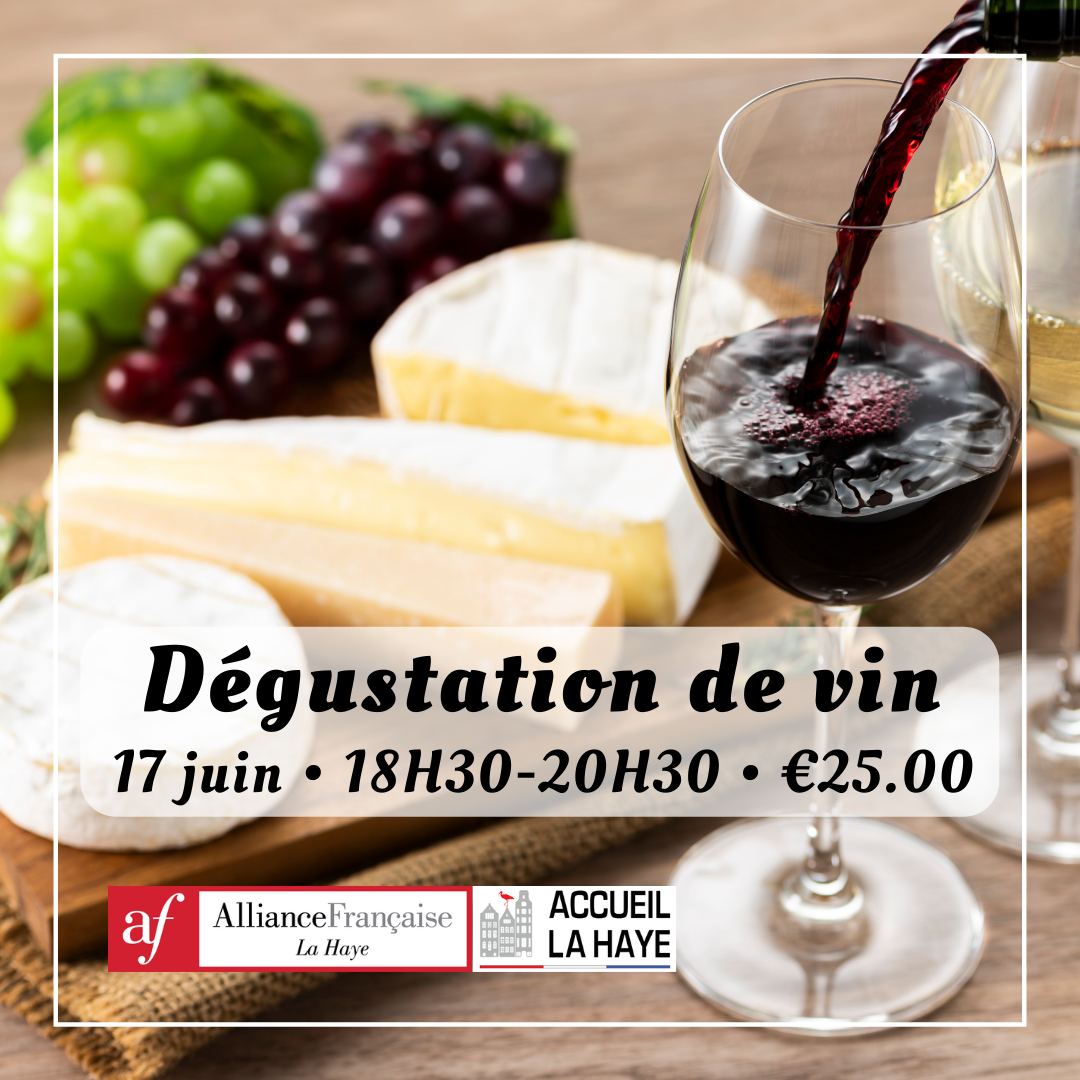 Soirée dégustation de vins :
Vous êtes amateurs de vins français mais désirez en savoir plus sur leur histoire. Participez à ces soirées dégustations qui vous permettront d'échanger autour du vin en compagnie d'un expert.
(25 euros/entrée)
Vendredi 17 Juin 2022 (18h30-20h30). Soirée gastronomique du thème Vins et Fromages.
Dégustation de 6 combinaison vins/fromage
Il existe de nombreuses harmonies vin et fromage à découvrir :
Sauvignon Blanc avec les Chèvres (Crottin de Chavignol) ; Gewurztraminer avec le Munster ; le Pinot Noir avec le Langres ; le Viognier avec le Port Salut ; le Bourgogne Chardonnay et le Brie de Meaux ; Beaujolais avec le Reblochon ; le Pinot Gris d'Alsace avec le Gruyère ; les Sauternes avec le Roquefort etc.
Wijnproeverij avond:  
Ben je een liefhebber van Franse wijn en wil je meer weten over hun geschiedenis ? Neem deel aan deze degustatie avonden waar je in het gezelschap van een expert wijn kunt bespreken.  
(25 euro's/toegang) 
Vrijdag 17 Juni 2022 (18:30-20:30 uur). Gastronomische avond rond het thema Wijn en Kaas
Proeverij van 6 wijn/kaas combinaties 
 Er zijn veel wijn en kaas harmonieën te ontdekken:  
Sauvignon Blanc met geitenkaas (Crottin de Chavignol); Gewurztraminer met Munster kaas; Pinot Noir met Langres kaas; Viognier met Port Salut kaas; Bourgogne Chardonnay met Brie de Meaux kaas; Beaujolais met Reblochon kaas; Pinot Gris d'Alsace met Gruyère kaas; Sauternes met Roquefort kaas enz.  
Wine tasting evening :
Are you a fan of French wines and you would like to know more about their history? Take part in these tasting evenings which will allow you to discuss wine in the company of an expert.
(25 euros/entry)
Friday 17 June 2022 (18:30 p.m.-20:30 p.m.) Gastronomic evening on the theme of Wine and Cheese
Tasting of 6 wine/cheese combinations
There are many wine and cheese combinations to discover:
Sauvignon Blanc with Goat's cheese (Crottin de Chavignol); Gewurztraminer with Munster cheese; Pinot Noir with Langres cheese; Viognier with Port Salut cheese; Burgundy Chardonnay with Brie de Meaux cheese; Beaujolais with Reblochon cheese; Pinot Gris d'Alsace with Gruyère cheese; Sauternes with Roquefort cheese etc.