Table ronde politique : A la veille des élections, regards croisés France/Pays-Bas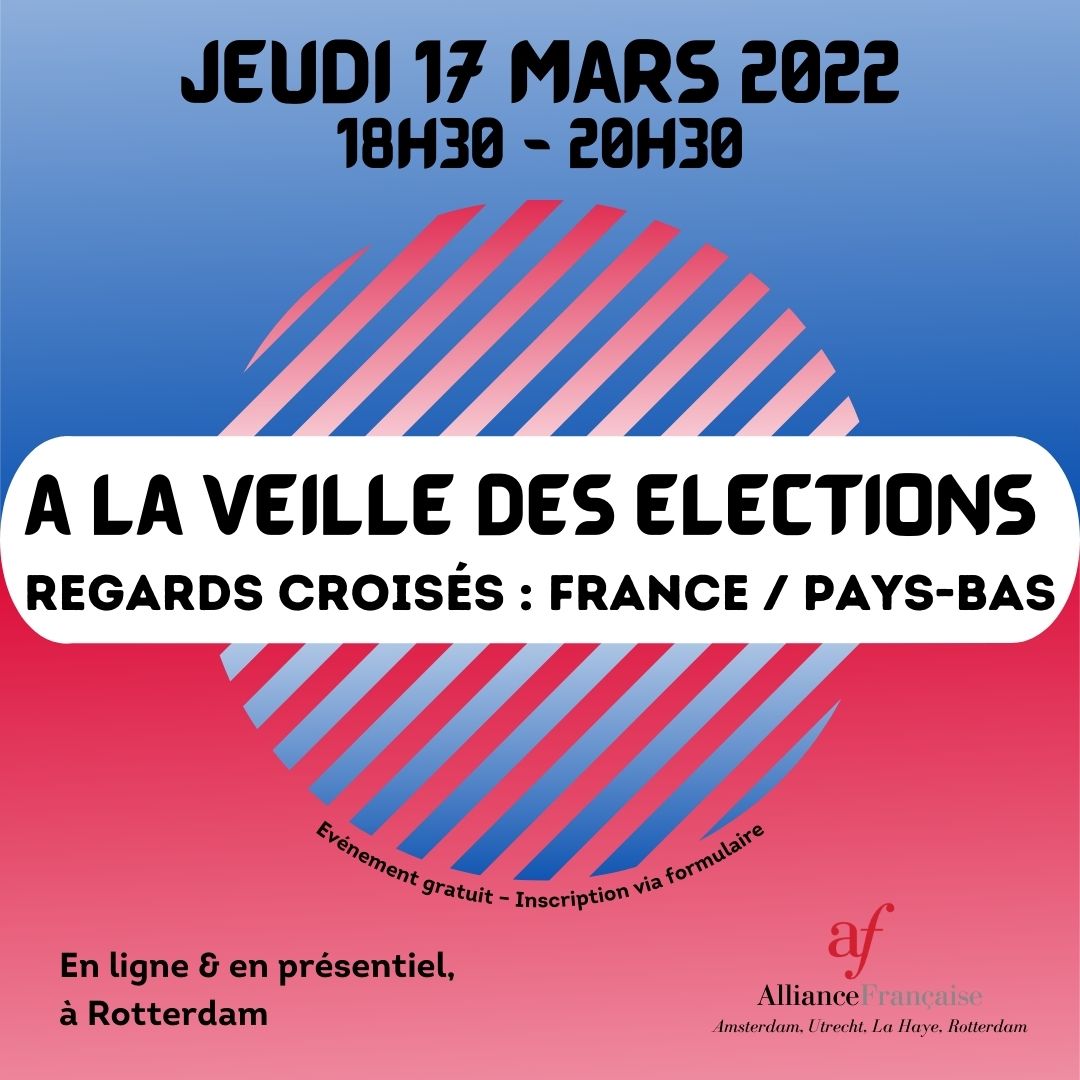 Les Alliances Françaises de Rotterdam, la Haye, Utrecht et Amsterdam vous proposent une table ronde politique à l'occasion des élections présidentielles françaises de mai 2022. A la veille des présidentielles, il s'agira de comprendre les enjeux de l'élection à venir, et, plus largement, de comparer les systèmes politiques français et néerlandais. Le regard croisé porté sur la France et les Pays-Bas permettra de réfléchir ensemble au contexte politique actuel. Cette table ronde se déroulera en ligne. Animée par Antoine Mouteau, elle accueillera Francis Maizières, Sophie Van Leeuwen, Stéphanie Van den Berg et Jean-Pierre Stroobants.​
De Alliances Françaises van Rotterdam, Den Haag, Utrecht en Amsterdam stellen een politieke rondetafel voor ter gelegenheid van de Franse presidentsverkiezingen van mei 2022. Aan de vooravond van de presidentsverkiezingen is het de bedoeling inzicht te krijgen in de kwesties die bij de komende verkiezingen op het spel staan en, meer in het algemeen, de Franse en Nederlandse politieke stelsels te vergelijken. De kruising tussen Frankrijk en Nederland zal ons in staat stellen samen na te denken over de huidige politieke context. Deze rondetafel zal online plaatsvinden. Francis Maizières, Sophie Van Leeuwen, Stéphanie Van den Berg en Jean-Pierre Stroobants zullen er te gast zijn, onder leiding van Antoine Mouteau.
The Alliances Françaises of Rotterdam, The Hague, Utrecht and Amsterdam propose a political round table on the occasion of the French presidential elections of May 2022. On the eve of the presidential elections, the aim is to understand the issues at stake in the upcoming election and, more broadly, to compare the French and Dutch political systems. The cross between France and the Netherlands will allow us to reflect together on the current political context. This round table will take place online. Moderated by Antoine Mouteau, it will welcome Francis Maizières, Sophie Van Leeuwen, Stéphanie Van den Berg and Jean-Pierre Stroobants.
link : https://teams.microsoft.com/registration/ClZMdcWBxEOJLCbx_cJpqw,Wz_yjhEyKkyLZdt2OyJcBg,Fxfc6yM_gkCGdPI4jdSQ-A,n4JzfuhX40e730L85-GRzQ,dIrP6beyqUCgLNHlslO1FA,6u2mvzlrIEqb2u8bUjm6Pw?mode=read&tenantId=754c560a-81c5-43c4-892c-26f1fdc269ab