Online Open Day:
27 August (18h-19h)
1 September (18h-19h)
2 September (16h-17h)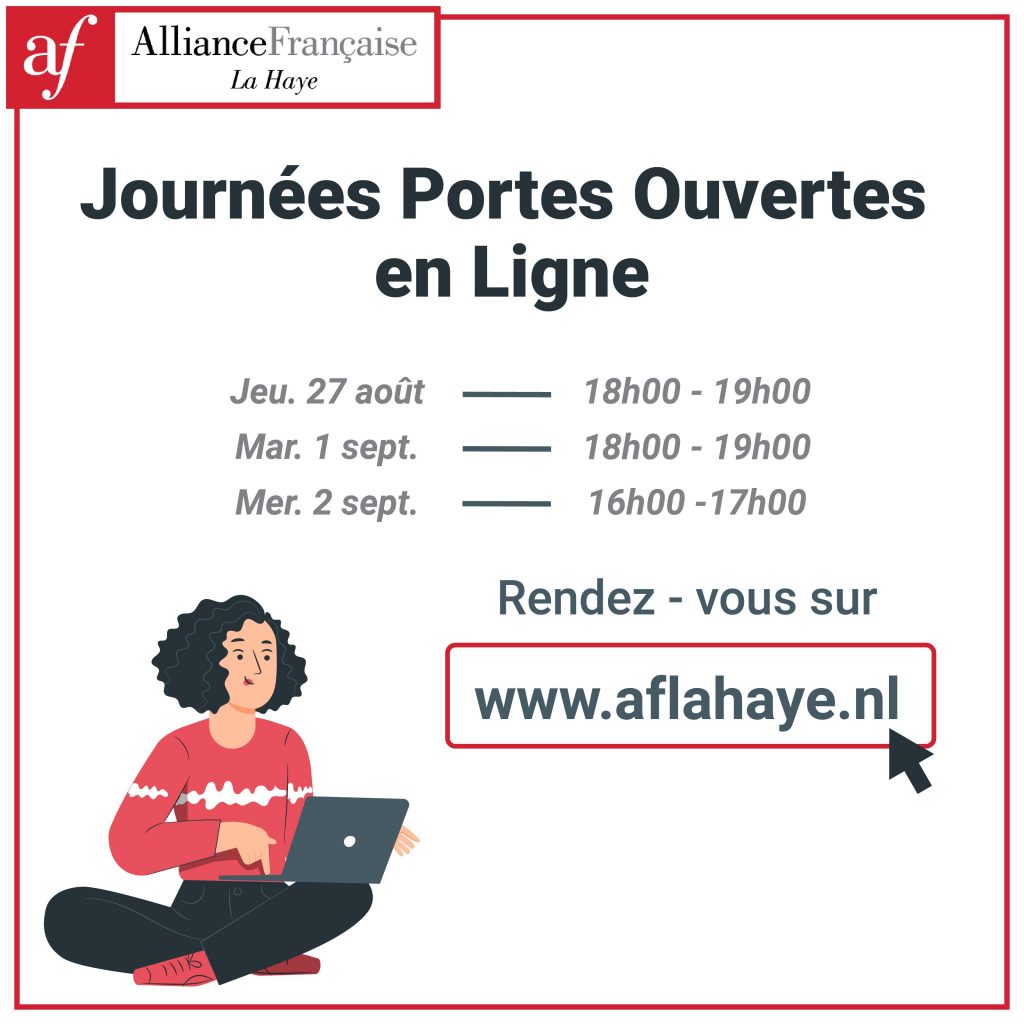 Chat with Florian, one of our teachers!
information About Us
What are we? What do we do?
We are here to promote the French language and the French culture. We specialise in teaching French as a foreign language as well as providing French cultural events for you. We are a non-profit organisation. 
Our courses range from group lessons, children lessons to drama and literature classes: 
Group Courses (A1 – C1)

 

Private Courses (A1-C2) 
In-company Courses (A1-C1) 
Tailored French Courses (For business, diplomatic, legal, Tourism and more) 
Children Courses (Francophones and non-francophones) 
E-learning (A1 – C1) 
Exam prep Courses (DELF/DALF) 
Drama Classes 
Conversation  
Café Français 
Litterature 
Our students
Our students come from all over the world!  
New in the Netherlands? Taking a class with us is also a great opportunity to get to know new people, Dutch or expatriates, at the image of beautiful Den Haag! 
Our teachers
All of our teachers are French native speakers. They all have a degree to teach French as a foreign language and are highly experienced! 
Our pedagogy
Our teaching philosophy
Engaging 
Confidence Giving 
Action oriented  
All of our courses follow the Common European Framework of Reference for Language (CEFRL). 
We have on average less than 8 students per classes, to optimise productivity within learning. 
Our session are 8 weeks long, with continuous assessments and a final assessment. 
Our classes are action orientated: we want you to be able to use what you learn in real life. First in everyday small talk and then on in your career.  
Our classes are engaging: learning grammar by heart isn't everything! We want to help you improve all four skills at the same time (speaking, listening, writing and reading), and help you build confidence in them. Practice is the key! We know that learning a new language can be challenging that's why we keep it fun. Activities are diverse with role playing, videos, audios and much more.
We teach French in French. Our goal is to have you speak French as much as possible for total immersion in the (virtual) classroom. Again, practice is key! Of course, we can still mime, draw, make soundsor use a word or two in English 😉
Technicalities
Our platform is easy to use. You will have access to the previously recorded virtual classes, online quizzes, homework and forums all under one account! 
We have recently changed our methods in order to offer you the newest options to learn contemporary French with up-to-date documents.  
Get certified
We are also an official examination center for DELF/DALF, TCF, TEF and DAEFLE, meaning that you can get certified in your French level with us.  
The benefits of obtaining an official qualification: 
Brings value and certifies your training in French

 

Provides credits for your personal and professional curriculum

 
We also offer exam preparations courses, to properly get you ready for them. 
Want to learn French with us?
The first step is to test your level :
Subscribe to the Alliance Française de La Haye
Subscribe to the Alliance Française of The Hague and have access to our online library with more than 300 000 ressources, receive discounts on our events and discounts with our partners!