Is your child naturally curious and likes to learn new things? At the Alliance Française de La Haye, we offer your children the opportunity to discover new activities while learning or perfecting their French language. What could be more fun than learning or practicing French by playing, singing, doing theatre or photography, listening to music or writing stories or SLAM!
Francophone or non-Francophone child? No worries, we offer 2 types of courses adapted to the language level of each one.
Our FLAM workshop (French-speaking child), which will take place in the premises of the Lycée français Vincent Van Gogh in The Hague, are suitable for children between 6 and 12 years old who already speak French fluently at home. The objective of these courses will be to give children confidence in their ability to express themselves in French (oral or written). Thanks to playful themes and numerous activities, your children will enrich and refine their French vocabulary.
Our FLE workshop (non-francophone) are more suited to non-French speaking children who have already learned French at school or in other courses and who wish to develop their skills. The FLE courses will take place at the AFLH and are open to all non-French speaking children between the ages of 7 and 16. Through a variety of fun activities (listening to songs, reading stories, board games, interactive games on the TBI, …) and the realization of an educational project at the end of the week (creation of a pop-up book, reading a dramatized dialogue, illustration of a text, writing a song, …), these courses will be an opportunity for your children to become familiar with the French language.
We are waiting for you to speak and learn French while having fun!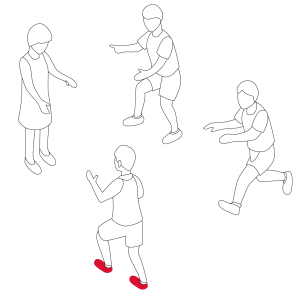 In the current context and in order to allow the good progress of the training courses, you will be asked to respect the following rules:
Respect hygiene measures as well as social distancing.
The children will have to wash their hands before entering the class but also when leaving.
Hydroalcoholic gel will be available on the premises.
Children may be asked to bring their own pencil and pencil case with pens and pencils.
Parents will not be allowed to stay on the premises during the course.
If a child shows symptoms, parents will be asked to keep the child at home and inform the teacher in charge of the workshop or the AFLH reception desk.